View of the day-We made it to the end of the line!
The weather finally took a turn for the better and we were able to finally get the 2019 harvest done . We finished Oct. 25 it was by far the nicest day we had in along time.
The farmer we work for had decided to rent a Case IH 9230, from the local Case IH dealer, to make sure we were going to get done. The other harvester he hired had 2 John Deere combines...they were broke down a lot, so much so, that the harvester sold them off and bought a Versatile combine.
After everything was finished up, Al cleaned up the combine at the farmer's place and the plan was to get it hauled home within a week or so. He then decided he was going to drive it home...it is about 110 miles so it would be a long drive with 2 big valleys to go through.
We left early on a Sunday morning, but by the time we got to the farm it was snowing and blowing, so Al decided we would haul it home instead. Then, because he could not get it hauled before we left for the toy show in Red Deer, he ended up driving to the farm of a former employee of ours. Aaron had worked for us over 20 years ago on the harvest run and was good enough to find us a spot by the bush to park, so that is where the combine will spend the winter.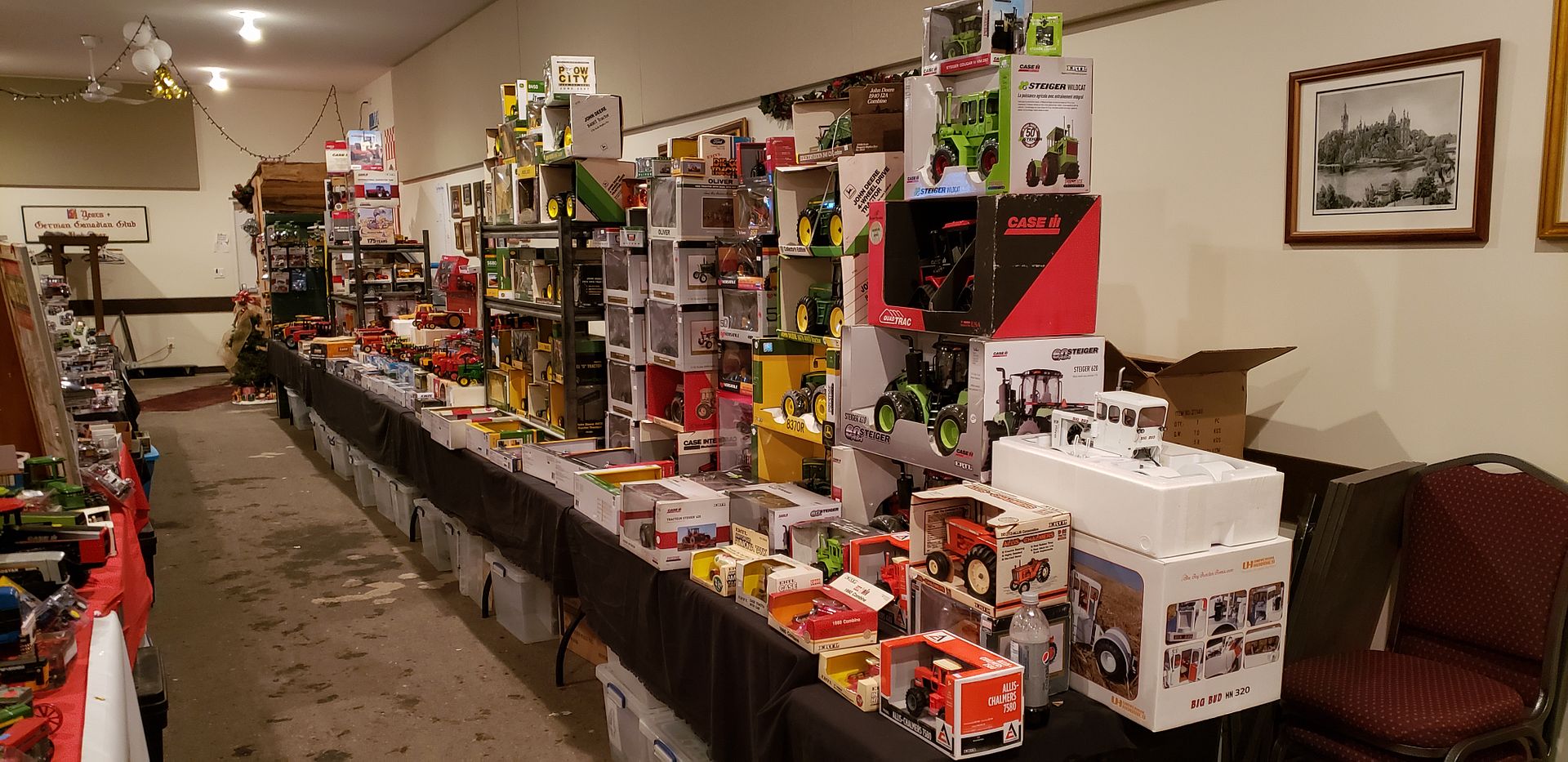 We left for Red Deer for the show Nov. 4, got set up and the show ran Nov. 6 to the 8th. With the late harvest, low crude oil prices and poor economy in Alberta the show was not as good as last year...more people, but they were just not spending.
We got packed up at Red Deer in a hurry, since there was a big storm coming from the northwest, heading directly to Saskatoon...which was on our usual route home. After much deliberation, we decided to go home through Calgary...and it only added an extra 100 miles or so to the trip.
We hit the road from Red Deer at 5:00 PM Friday Nov. 8 and pulled into the yard at 4:30 AM Saturday. The drive was not bad...a little snow just before we got to Yorkton, but the divided highway was a bonus for the extra miles we had to cover.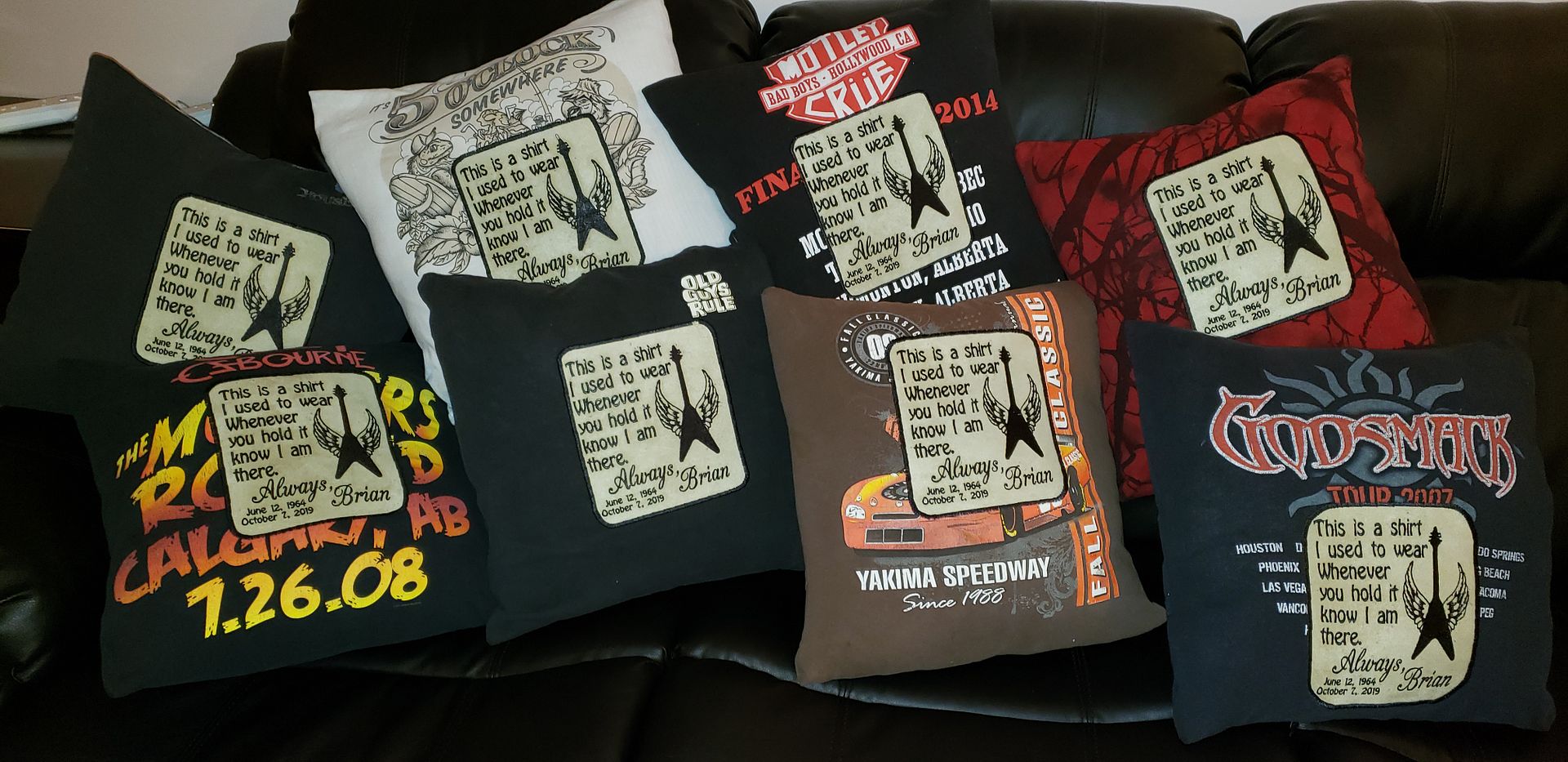 It was a short stay at home as we had to batten down the hatches for our next adventure. We got packed up again and we left Nov. 10 for Moose Jaw, to attend a memorial for Marilyn's brother Brian who had passed away. Between all of the chasing around, Marilyn was able to use some of Brian's well worn tshirts to make memory pillows for the family.
After the memorial, the same day, we left Moose Jaw and started on our trip to sunny, warm, Arizona. After an uneventful...weather wise, at least...leisurely drive, we arrived in Phoenix Nov. 13. We got there so early, the place we had rented was not available for a few days, so we stayed at Al's brother's house in Maricopa.
We have been going to every Arizona Coyotes hockey game since we have been here...nothing like NHL hockey in short sleeves! Marilyn's friend, Brenda, came for a visit and was able to take in several hockey games...she even got to see her Toronto Maple Leafs win this time. We took a drive over to Lake Havasu, it is a gorgeous place, which makes it a real tourist trap. Al calls it the Banff of Arizona.
Al's brother, Jeff, came down for a week, so there was a photo op at one of the hockey games we attended...they even made it to the big board!
We took a day trip to Yuma, AZ to visit with Marilyn's cousin, Jane and her husband, Bob. They had harvested with us a bit back in 2013 and if you check the link, you will see the self-propelled grain cart he built out of an airport pumper truck! After lunch, we went to a Mexican market...not in Mexico...Al refused to go to Yuma unless he had promises from all of us that we wouldn't take him across the border...his thought..."they kill people down there!" So we stayed in Arizona.
We did get to see a bit of cotton harvest, this year we stayed in a more urban area, so missed most of the action
Talking to people back in Saskatchewan while we were away, it sounded like the weather has been not that bad up there...well fear not, we will be there "enjoying" it with you, soon enough. We do not miss the snow...
We hope everyone had a Merry Christmas and are looking forward to a Happy New Year. We started the new year off with a drive back home to prepare for the beginning of the toy show year. Saskatoon is first on the list and as per usual, it is forcast to be -40º...which is the same in either language.
Tax season is upon us, so we will both be back at work for the long hours and the Yorkton Toy Show is on the horizon...
Have a great 2020!!